What could be better than a late Spring outing on the Kokosing River? May 21 was hot and sunny, and club members started arriving at Kokosing Valley Campground early in the afternoon - Ruth, Laura, Tony and Alice with nephew Josh and Melissa were first to arrive, followed by Mary and Eric. By 6:00, just about everyone had set up camp, as the early birds were joined by Ron and Jilinda, Lance, Harold and Laurie, Steve and Colleen, Liz, Tom, and finally, Chuck, who arrived after a long day at work.
Tony, Alice, Josh and Melissa decided to check out Honey Run Falls Friday afternoon, and when they got back to camp, headed out to an early dinner at the Hilton in Howard with a small group. The rest of the group hung out at camp to eat and hang out. By 8, everyone was together and telling stories at the campfire.
We decided to get on the river early Saturday morning to stay out of the hot weather and try to avoid crowds on the water. Josh, Melissa, and Laura put their kayaks in the river about 6 miles from camp, around 9:15 and had a great trip. They arrived back to the campground by noon.
The rest of the group put in at Big Run Road, preparing for the 10 mile trip back to the campground. We had 9 canoes in the water: Tony (with Benny the dog, of course!) Tom, Ruth, Mary, Eric, Liz and Collen, Steve, Ron and Jilinda, and with Lance as sweep (thank you, Lance!). We were on the river at 9:41. The river was perfect - about 220 CFS, which made it challenging without being overwhelming, and no bottom scraping. We lost count of how many eagles we saw and were treated to an osprey sighting as well. Lance helped talk Mary off a rock (without incident!), which was great (amazing what some determined back paddling will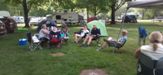 do!). About 8 miles in, a tricky chute put Ron and Jilinda in the water as they maneuvered through. We got a little jammed up, and Ruth wisely decided to line through, taking advantage of a little bit of land. Mary, much to Eric's relief, took Ruth's lead and lined her boat through as well. We decided to stop for lunch and regroup. Tom found a cool old piece of wood that looked like a cross between a rabbit and a Martian, and Liz found some stinging nettle (ugh). After a good bit of searching, Ron and Steve were able to find the paddle Ron lost when they went in. We got back on the water and paddled a couple more miles to the campground, arriving about 1:30. Everyone had a chance to relax a bit, and we decided to be on our own for dinner, still being a bit Covid cautious. Kerri joined the group in the late afternoon, and Lance brought out the cool Voyager silver dollars he found. (Lance always finds the coolest stuff...)
After dinner, we had our long overdue annual meeting (see minutes for more info), then some of us hung out at the fire while others enjoyed a fun (and perfectly legal :) gambling game Josh brought. Sunday morning, Chuck and Kerri, Tony and Muffy (another dog) and Josh decided to paddle from the campground to enjoy the challenge of the factory rapids. While they were gone, a group of us went for a hike at Honey Run Falls.
All in all, it was a great weekend - awesome company, perfect weather, a friendly and nice campground and great paddle. No wonder OHCRA has chosen the Kokosing for so many outings!

View All Pictures From the Kokosing